From Jakarta to Pekanbaru, CAP Astragraphia Visited SMK Muhammadiyah 2 to do sharing knowledge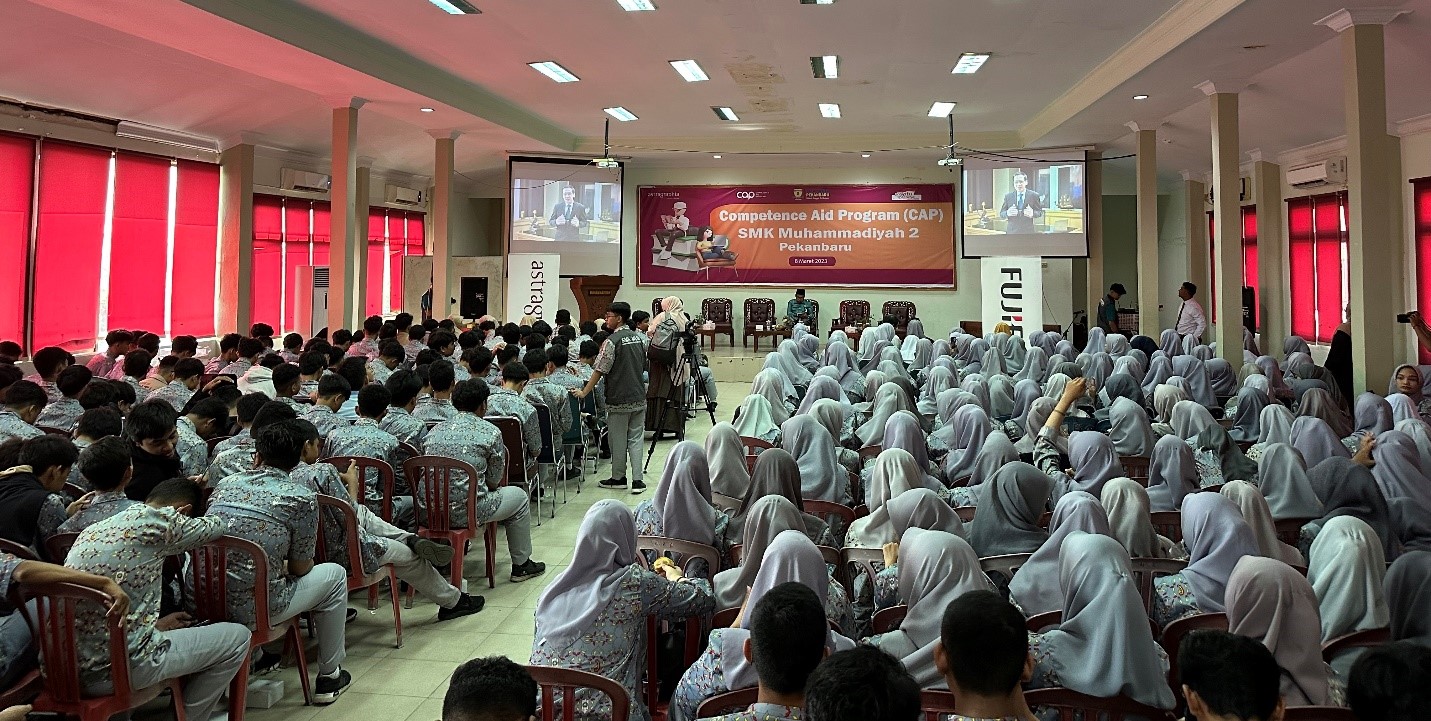 Screening of Astragraphia's company profile started the Competence Aid Program (CAP) March 8, 2023
On March 8, 2023 Astragraphia visited Muhammadiyah 2 SMK Pekanbaru in the context of holding the Competence Aid Program (CAP), a form of Astragraphia's social responsibility for Indonesian education. A total of 400 students participated in CAP which was divided into two sessions and presented directly by Astragraphia People.
The CAP topic in the first session regarding 'Improve Speaking & Presentation Skill' was delivered by Andhita Putri Ayuni, Dept. Head of Corporate Communications PT Astra Graphia Tbk. Through the delivery of this material, students are encouraged to be confident when speaking in public, as well as being able to convince the audience with the right communication method. Besides being useful in the world of work, communication soft skills like this can also be applied in everyday life.
Dhion Damara, Business Consultant & M. Divo Trinanda, System Analyst PT Astra Graphia Tbk are presenting material of CAP
The second CAP session was more specifically for students majoring in Visual Communication Design (DKV), which was about 'Creative Application for Digital Printing', which was presented by Dhion Damara, Business Consultant of PT Astra Graphia Tbk and M. Divo Trinanda, System Analyst of PT Astra Graphia Tbk. As we all know, besides being expected to be ready to work, SMK graduates are also encouraged to start a business. For this reason, the topic of creative packaging is relevant for DKV students to find out about packaging trends that are currently in vogue, to then be able to turn it into attractive packaging so that it attracts the eyes of potential consumers.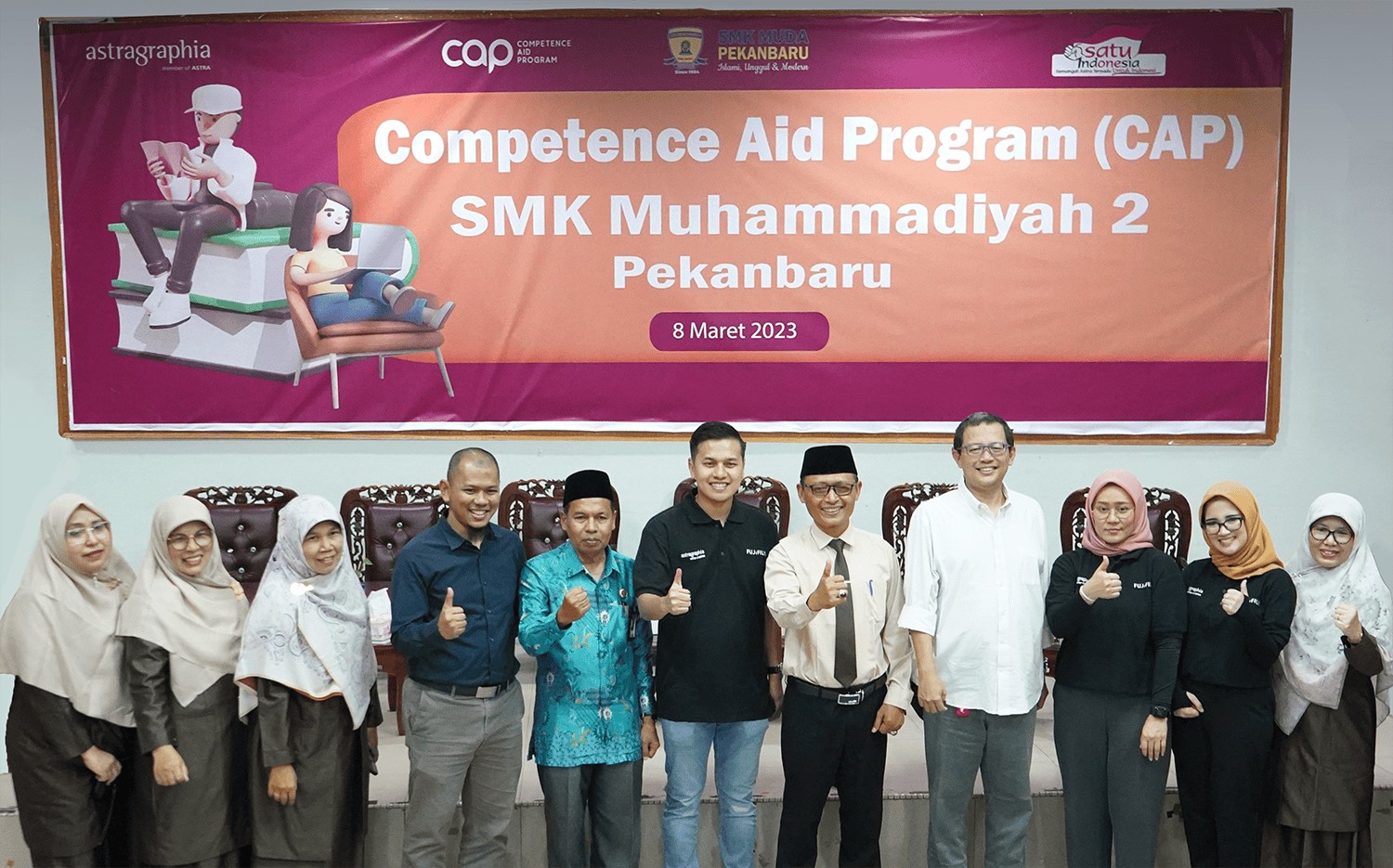 Teacher & Principal of Muhammadiyah 2 Pekanbaru Vocational School, Chairman of the Elementary and Elementary Board of Muhammadiyah Riau Regional Leadership along with the Astragraphia Team Pekanbaru Branch & Head Office
The school was represented by Paiman Sanen, M.Pd.i., the Principal of SMK Muhammadiyah 2 Pekanbaru expressed his appreciation for the presence and contribution of the Astragraphia team as an industry that cares about the advancement of Indonesian education, followed by remarks from DR. Ir. Indra Hasan, M.M., Chairman of the Riau Muhammadiyah Regional Leadership Elementary Education Council.
Astragraphia through Hikmat Maulana, Branch Manager of PT Astra Graphia Tbk Pekanbaru Branch said that Astragraphia as a company engaged in digital printing and IT services carries out social responsibility through four pillars, namely health, education, environment and company. He also explained that on that occasion Astragraphia implemented the Competence Aid Program (CAP), as part of Astragraphia's sustainability program in the education pillar, which is aimed at vocational high school students and also college students.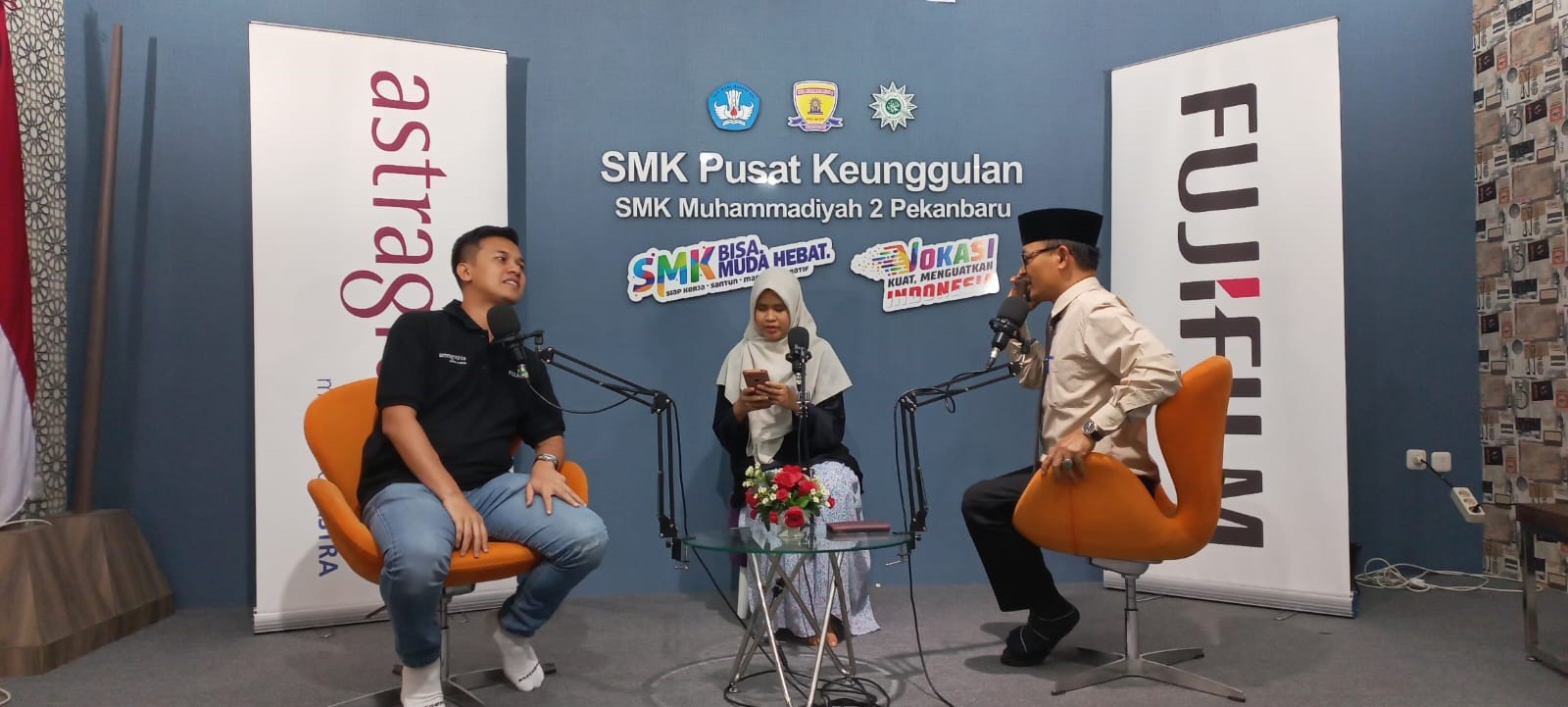 Hikmat Maulana, Branch Manager of PT Astra Graphia Tbk Pekanbaru Branch, was a guest speaker at the SMK Muhammadiyah 2 Pekanbaru podcast
On the same occasion Astragraphia was also invited as a guest speaker at the Muhammadiyah 2 Pekanbaru Vocational High School podcast (https://www.youtube.com/watch?v=DqIVz52tO6Y), to further introduce Astragraphia and explain the social responsibility programs that Astragraphia is running, especially through education pillar.
About Competence Aid Program (CAP)
The Competence Aid Program (CAP) is an ongoing knowledge-sharing activity initiated by Astragraphia, and has been implemented since 2000 by Astragraphia employees with competencies in document solutions, digital printing and information technology. CAP training is intended for vocational high school students and university students as a provision to enter the world of work and be ready to work in the creative industries.
Astragraphia's social contribution is a manifestation of the company's culture to become more Valuable to the Nation and Life, while supporting the Sustainable Development Goals (SDGs) point 4 regarding Quality Education.